Dyes
The complete Color System of Stucco Italiano:
Stucco Italiano's color system consists of a catalogue with 90 colors and a PC-program to calculate the color formulas. Our library includes over 24,000 different colors and major vendors' color pallets.
Color Decks in the color match system are as follows:
Ambiance | Benjamin Moore | Butterfly | Farrow & Ball | GMCS | Marcromie | NCS | Palitra | Pantone | Ral | Sherwin - Williams | Sikkens | Symphony
*If you have a deck that isn't in the pre-set system, we can still make a color match for them directly with the manufacturer for any deck in the world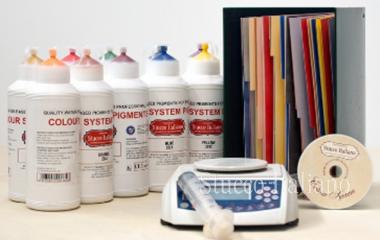 The Color System consists of a color catalogue, software, and sixteen base colorants. The color catalogue contains A4-sized images of Fine Marmorino finished in each color.
The software, designed for Windows, is easy to use. You can get the correct formula by simply inserting the color of your choice, the type of material from our list of products and the quantity you wish to color.
The formula is expressed both in terms of volume (in milliliters for use with a syringe) and in terms of weight (in grams to weigh on scales which can measure to the tenth of a gram). The formula can be modified according to your needs, for instance, by indicating a percentage more or less to get a darker or lighter color. The formula can also be changed by increasing or decreasing a certain color. Each formula, including those changed, can be saved with your customer's name and kept for later use. You can even create your own color formulas.
Our plan is to create new colors each year which will made available to you through our newsletter. In addition, when we come up with a new material, the Color System will be updated online and you will be the first to know through our newsletter.
Sample System Light Colors Dark Colors
The advantages of the new Color System:
You can color your material easily with gram scales or with a syringe.
You can color any of our products.
You can modify the colors easily; for example, you can make a color 10% darker or lighter, or a beige color containing 5% more or less red, etc.
With the software program, you can save the formula for the color you created by creating a file with the name of the customer, the date, etc. so that even years later you can make that exact color again.
It is important as a professional to be able to make any color you or your customer wants. And with Color System you can easily learn how you to do just that.
You save money because our pigments cost much less than those in any other coloring system.
Your material will be of higher quality. With the old system, for example, in order to add 50 grams of pigment to the material, you would have had to pour in 300 grams of liquid, 250 of which would have been glycol, an extender added to keep the liquid dye from drying out. But with the new system, you get just pure pigment.
With this system you will always be able to get the same color, even years later since we always use the same pigments or coloring powders in our dyes.
This system will allow us to introduce new colors for you to use every year. Our personal plan is to create a color chart with 200 colors with all the formulas available in the software.
The software will be installed on your computer, and you will receive yearly updates which will include any new formulas. We will also send you pages with these new available colors. Each color is displayed in a photographic image of real samples of Marmorino Veneziano A4 paper.
Each page, which can be removed from the ring binder, details how to obtain that specific color with our method of colorizing.