Floor Additives
For the floor we have a lot of additives to make the application of our products easier and to get special effects, but also to have the best protection and resistance. You can find your needed product for floor among the additives. .
AQA - AQ AGENT
Application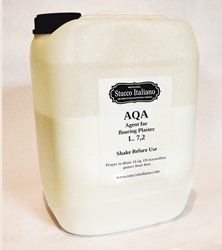 Is replaced with the mixing water, that is, it is used instead of water to dilute product Pastellone that is in powder form.
Appearance
White liquid milk
Package
Cans lt 7,2
Storage
24 months protecting from excessive heat and ice. It has to be used instead of the water to dilute the PASTELLONE, The Marmorino for Floor.
There is not a precise indication of the quantity, but the packaging of AQ-A is thought to be used with one bucket of Pastellone powder.
Normally you need about 470 ml. of AQA for 1 kg. of marmorino powder.
The pigment that have be used to tint your Pastellone can be put into the AQ-A before to go to work in the site.
To tint the liquid additive AQA is the easier way to tint your material.In this way you can tint also a small amout of powder, not necessary all the bucket.
FLOOR ACRYLIC WAX
Self-Polishing Acrylic Wax protection for floors - matte, semi-gloss, glossy.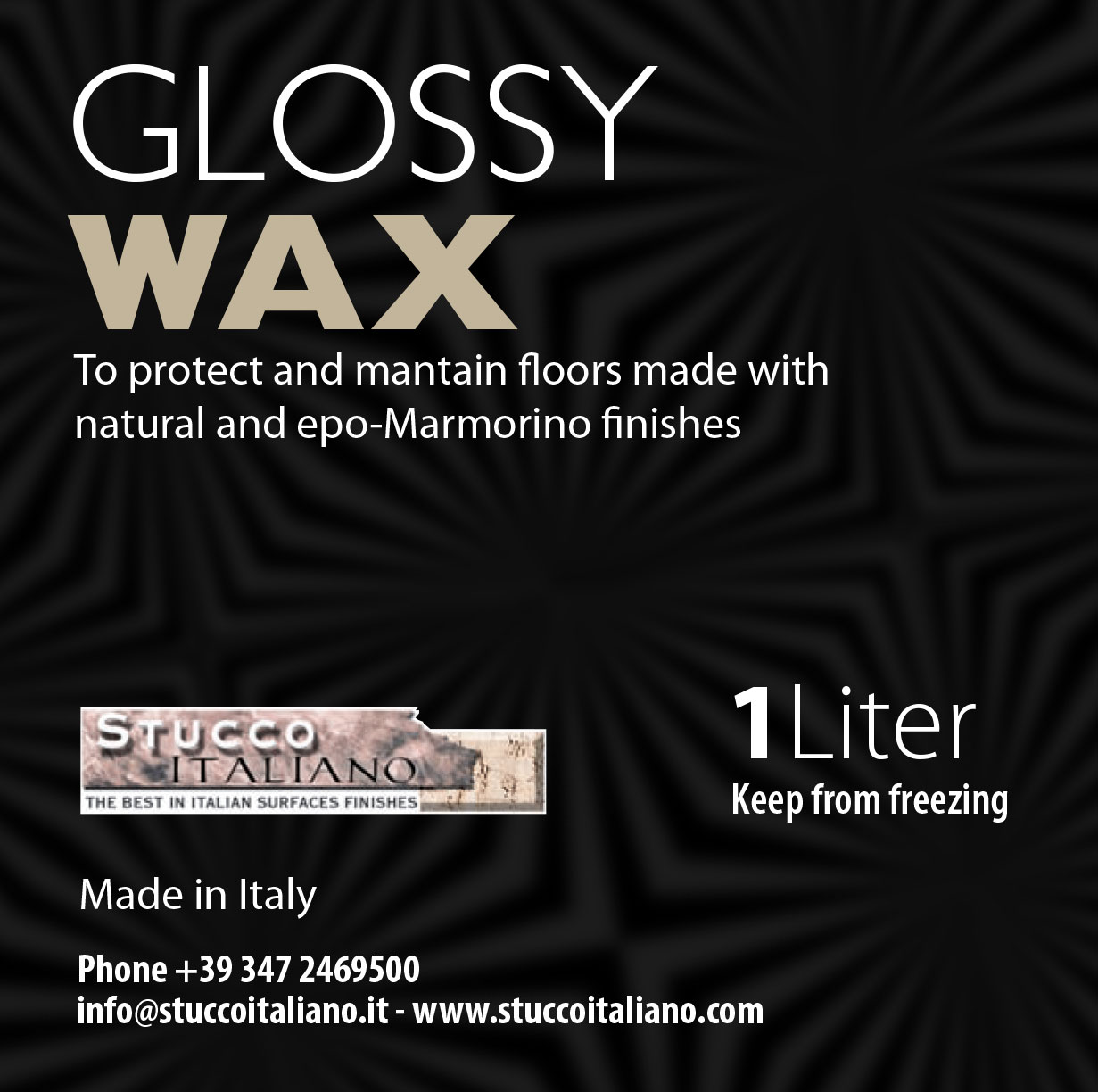 This is an acrylic-based wax suitable for protection of all horizontal and vertical lime- and cement-screed surfaces with high-traffic.
Application
When the floor is clean and dry, apply an even coat of the desired product (matte, satin or gloss) with a special cloth or felt applicator. After about an hour apply a second-coat on top of the first. In general it is recommended to apply it thinly; excessively thick wax can be visible and easily damaged.
After about an hour, it can be walked on. Even though it is self-polishing, it can also be polished for a higher gloss after a few hours.
Download Floor Acrylic Wax Data Sheet
NORMAL PRIMER
This is a normal acrylic primer to prepare the substrate before applying lime or cement based plasters.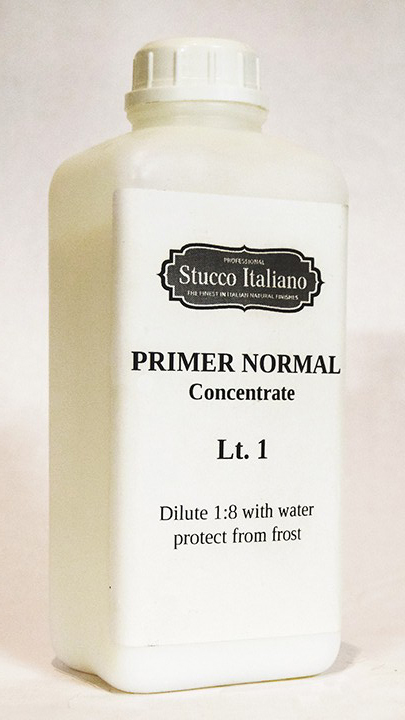 Where To Use It
Use as a primer for Marmorino for Floors when the substrate is dusty.
Application
Dilute 1:8 with clean water when used as primer.
It can be used over Pastellone before applying the Varnish in order to reduce its absorption. In such cases, dilute 1:14 with water. During this phase some pigment can be added to give the finish more movement and depth. The product can be applied with a soft cloth.
Download Normal Primer Data Sheet
PU 1C VARNISH
It is a one-component water-based polyurethane varnish.
Application
Shake the contents thoroughly.

Apply with a roller or a brush

If necessary add a little bit (max 10%) of distilled water.

Wait more than two hours for the second application.

Do not apply in temperatures under 12°C.

The tools can be cleaned with water.
PU2C
Matte anti-scratch treatment with high surface resistance for lime and cement-made floors.
It is a two-component water based Polyurethane Varnish.
The main characteristics of this varnish are hardness and transparency; therefore, with this finish you get the dual attributes of beauty and durability. It has a discreet, refined appearance which is almost invisible.
Application
Mix carefully 10 parts (in weight) of component A (PU2C/A) , the resin, with 1 part of Component B (PU2C/B), the hardener. Apply within half an hour by roller or brush.

If necessary add a little bit (max 10%) of distilled water.

Wait more than three hours for the second application.

Do not apply at temperatures under 12°C.

The tools can be cleaned with water.
SAA - STRONG ADHESION ADDITIVE
How To Use
Mix 5% (in weight) of the powder to a powder plaster or 4% to a wet plaster and mix carefully. Wait ten minutes and mix again, than apply directly on tiles or other smooth surface including PVC or polystyrene
SEALER
Nano-tech waterproofer protection for absorbent natural stone and building products such as lime- and cement-based surfaces.
This is a fluoropolymer water-based solution which when applied makes the material water, smog and oil-repellent. Treated surfaces are easy to clean. The special formulation provides excellent penetration without affecting the material's breathability or color. It is also highly resistant to UV rays. Test the product on an inconspicuous area and wait at least 48 hours to assess the effectiveness of the product.
Application
Apply the product only on absorbent surfaces which are clean and dry. Depending on your needs, the product, which is ready-to-use, can be applied using a low-pressure spray, soft brush or roller. Apply at least two coats. For surfaces with high porosity, it is recommended to apply the product until it is completely saturated. Always apply the product uniformly avoiding puddling on the surface.
end faq